BRUCE CHATWIN - overburdened and inadequate
 Bruce Chatwin is this month's hero. 

In February 1965, Chatwin left a job appraising art for Southeby's for Sudan, needing a change of scenery. It was on this trip that Chatwin first encountered a nomadic tribe; their way of life intrigued him.
"My nomadic guide," he wrote, "carried a sword, a purse and a pot of scented goat's grease for anointing his hair. He made me feel overburdened and inadequate...."
Chatwin would remain fascinated by nomads for the rest of his life. However, intriguingly, he never relinquished his love of objects and craft.
An novella that partially inspired the MILK range was Utz.
In it, Chatwin describes the fascination of his central character for the delicately coloured delights of Meissen Porcelain, hoarding his own private collection in a cramped appartment in 1980s Prague. His entire life is porcelain, he is both trapped and liberated by his collection of rare, exquisite and beautiful things.
It was this book that changed my perception of fine porcelain, and revealed the life and beauty of the material, that I supposed I had previously unconsciously dismissed as kitsch.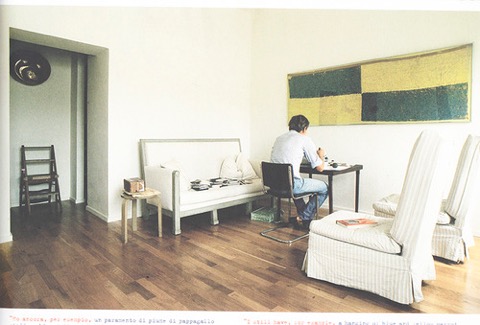 My first encounter with Chatwin, however, was the essay he wrote about flathunting in Belgravia in the 1980s.
Here he talks about giving full control to early minimalist hero John Pawson in turning around his dreary 45m² bedsitter and transforming it into a place to think.
Though delighted with his minimalist interior and reduced aesthetic, Chatwin falls for a French Empire style sofa at auction, proving that just like so many of us, one can't live with beautiful objects, and one can't live without them.
What I have gained from Chatwin, aside from hours of deeply pleasurable reading, is that our relationship to the material world, to the hands and judgements of others, is a source of burden and inspiration in equal measure.
---