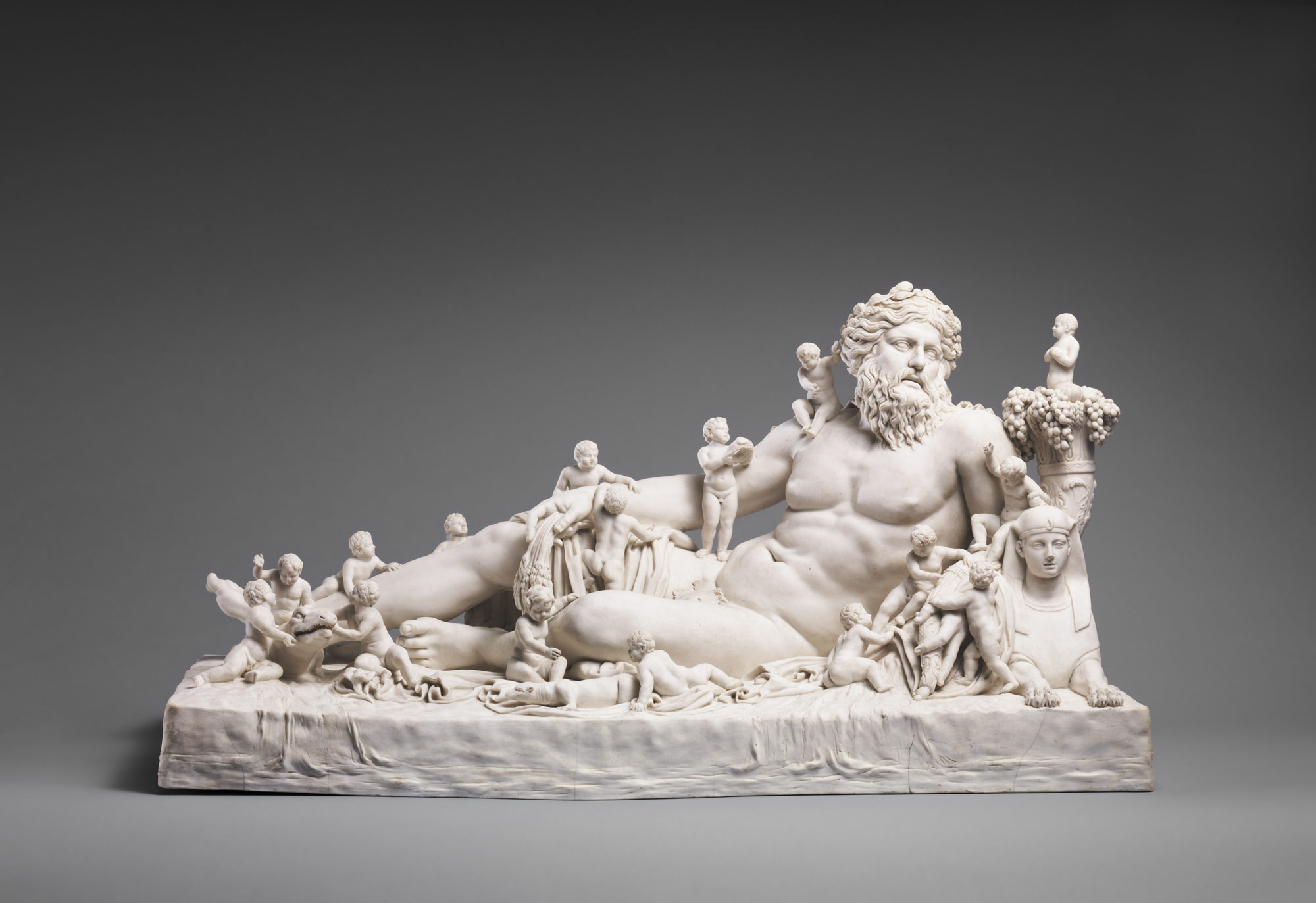 Giovanni Volpato 'Personification of the River Nile' ca. 1785–95
In 1785 Giovanni Volpato established a manufactory in Rome for the production of biscuit-porcelain sculpture. Most of the sculptural groups made under Volpato's supervision were reproductions of antique marbles, the biscuit- porcelain medium being ideally suited to this purpose. The River Nile is a reduction of a colossal Roman marble at the Vatican, much admired in Volpato's time.
We are inspired by the way the untramatte material mimics and abstracts human skin, as well as the soft drama that it evokes.
Edmund de Waal 'Atemwende' 2013
Edmund de Waal is an English artist working in ceramic who has also had great success with novels, notably 'The Hare with the Amber Eyes'. 
His work explores repetition and imperfection in porcelain, and the tension between every day objects for the home, and what might be considered high art.
What inspired us is the naievety and simplicity of the work, as well as its intuitive and accessbiel nature.
Untitled, Lucio Fontana, 1957
If you know one thing about Lucio Fontana, it's the slahed canvasses, one of the more powerful and emotive images in postwar european art. However, he was also adept at drawing out the innate potential and fragility of ceramics, and was one of the few modern artists who managed to elevate the material beyond the world of craft.
We are inspired by the simplicity and boldness of statement.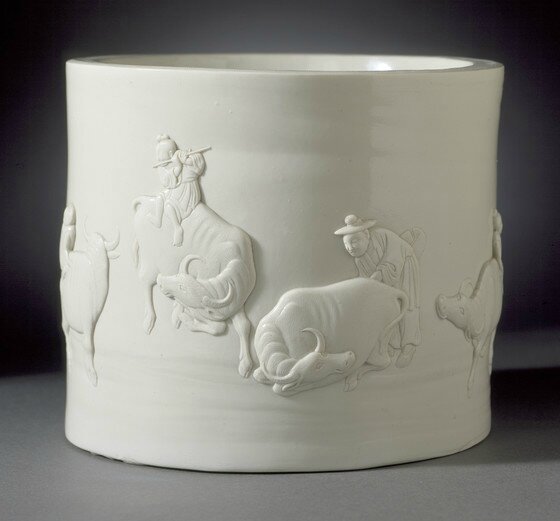 Two Brush Pots, Chen Guozhi, 1820s-1860s.
Both of these pots surprise, the upper with its simplicity, the lower with it's complexity.
What inspires us in these pots is that they are a masterclass in richness of texture, the uppper one with its judicious use of clear glaze, omitting the figures, bringing them closer to our plane of perception than the shiny backdrop.
The lower pot is a tour in smoothness, scrachty brush, pendulous little fruits and whispy mountaintops, all in the space of a few centimetres, with one material and one color.
Breathtaking.
The Grape Eaters, after Francois Boucher, Sèvres Factory, 1752
Sèvres produced the most, and perhaps the most consistently charming biscuit porcelain in the world, using the material to emulate well loved works of art. Often capturing relatively modest moments of fleeting bliss, such as this delightful and tender scene, the artesans at Sèvres used the charming, simple, soft and deep matte lustre of the material to draw out the vital nescessity of everyday passing pleasures.
It's this spirit that we wanted to capture, everytime you raise one of our espresso cups to your mouth, and the warm, creamy, slightly chalky texture of the biscuit porcelain touches your lips, followed by a hit of creamy, strong, hot espresso.
A vitally important every day pleasure, if there ever was one.
---